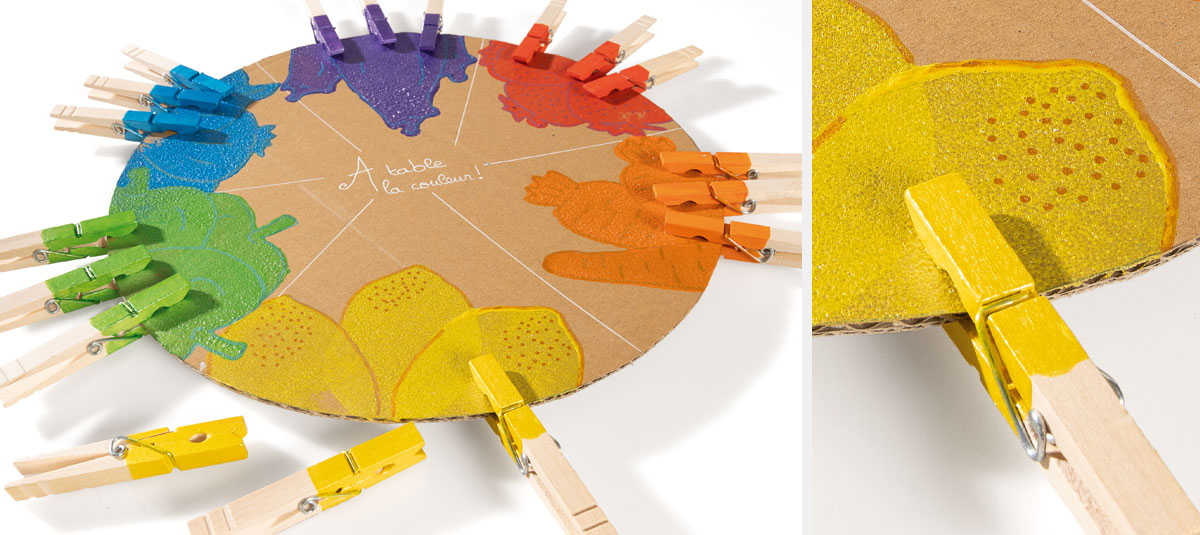 2 years old| Difficulty: ★ | 1h30 plus drying time
Material






---

Educational material
Fine motor skills, learning colours.
Draw a 30 cm circle on scrap cardboard.
Prepare the paint on a piece of cardboard using the colours of the rainbow, yellow, orange, red, purple, blue and green.
Take a giant fruit or vegetable sponge of your choice, dip it in the associated colour, then place it on the edge of the circle.
Repeat with other sponge shapes to fill the whole circle, using each colour of the rainbow.
Paint the ends of 3 clothes pegs the same colour. Repeat for each colour. Leave to dry upside down on the edge of a glass.
Using a Posca marker and a ruler, draw diagonal lines to separate each colour.
Finalise your game by writing its name in the centre. For example "At the table the colour!"
And here is a simple creative idea, ideal for developing fine motor skills and colour recognition!
Our selection for this creative sheet