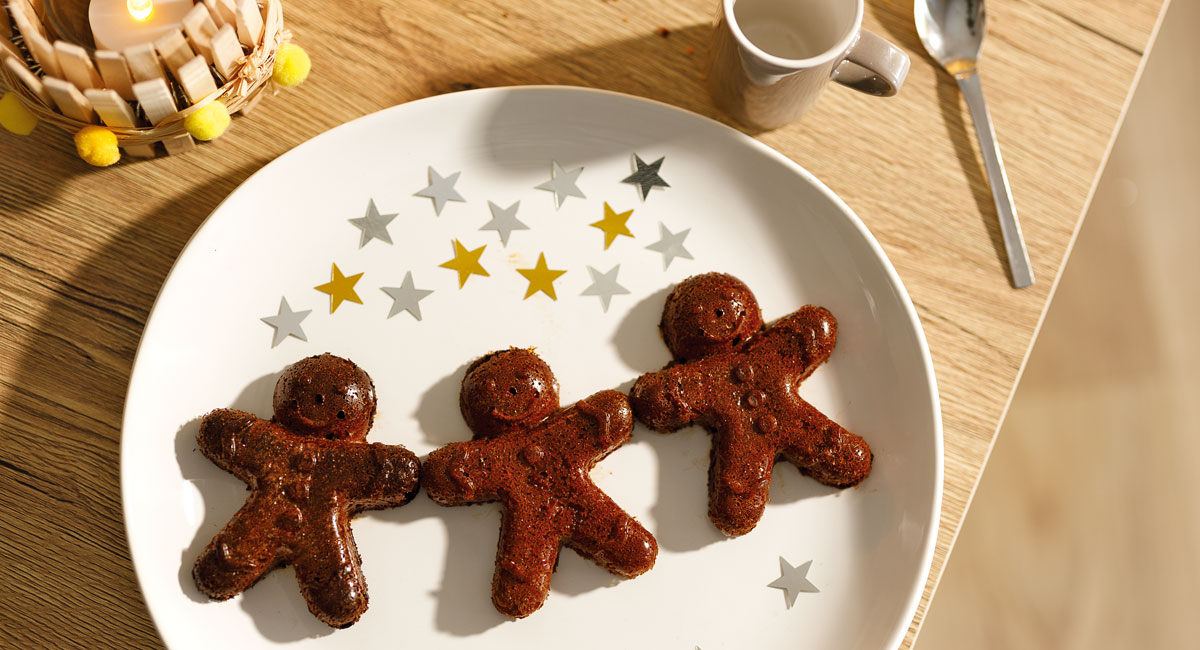 + 3 years | Difficulty: ★ | 15 minutes and 1 hour cooking time

Material
Ingredients for 6 gingerbread men :
85 g honey

85 g flour

35 g caster sugar

⅓ sachet baking powder

⅓ sachet vanilla sugar

2 tablespoons gingerbread spice mix

5 cl milk 1 egg



---
Educational material
Heat the honey in a pan or in the microwave.
Mix the flour with the baking powder, the two sugars and the spices.
Add the hot honey (ideally stirring with a wooden spoon).
Gradually add the egg, then a little warm milk to bind it all together.
Preheat the oven to 160°C (gas mark 5-6).
Pour the mixture into the silicone moulds, distributing the batter evenly in each.
Place in the oven for about 1 hour, checking with the tip of a knife.
Leave to cool, then remove the gingerbread from the moulds.
NB: the spices continue to infuse after cooking: wait up to 24 hours for optimal enjoyment.
These cute little guys can be stored in an airtight box for about a week!
FC xxxxxx - xxxxxx - et1
FC xxxxxx - xxxxxx - et2
FC xxxxxx - xxxxxx - et3
FC xxxxxx - xxxxxx - et4
FC xxxxxx - xxxxxx - et5
FC xxxxxx - xxxxxx - et6
Our selection for this creative sheet