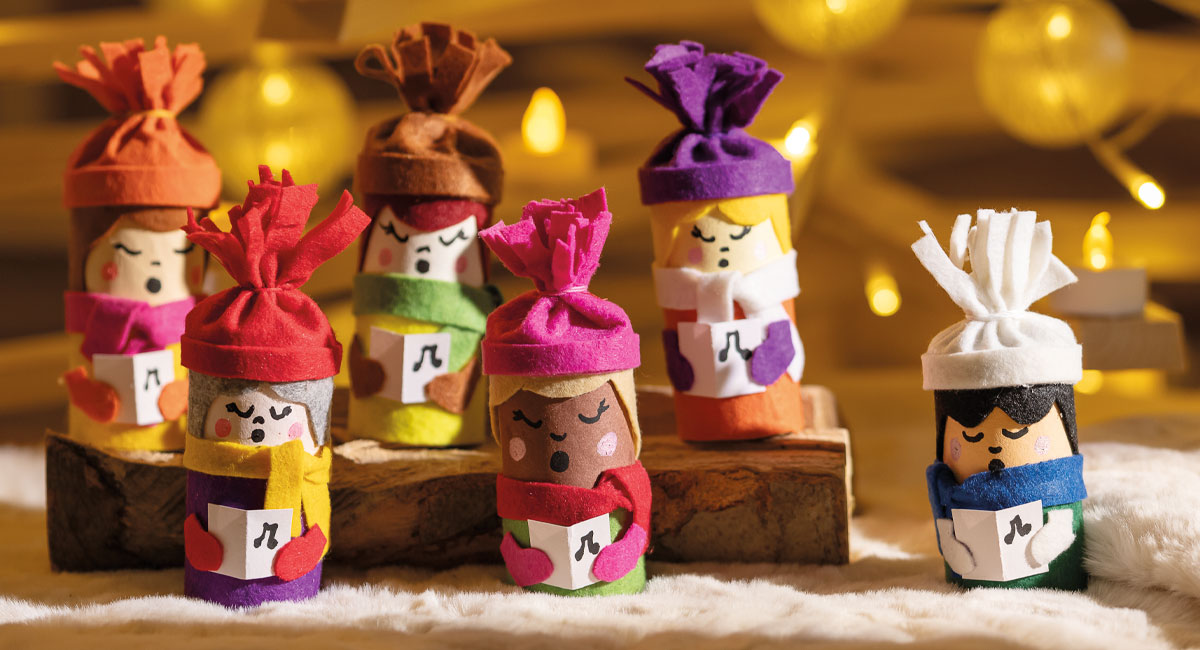 + 5 years old | Difficulty: ★★ | 1 hour

Material
Upcycling: Toilet Paper Rolls



---
Fine motor skills and creativity
Cut a 'skin-colored' rectangle to start building your character's face, and glue it around the edge of the toilet paper roll.
Create the hair by cutting the desired shape from felt and glue it to the top part of the roll.
Create the clothing by cutting a rectangle that will cover half of the height of the roll. Glue it all around the roll.
Using the felt again, cut a strip about 1 cm wide and wrap it around the character's neck to hide the edges of the paper and felt from the clothing. Tie the scarf and glue the ends that stick out.
From the colored paper, cut a rectangle measuring 2.5 cm by 4 cm to make the songbook, fold it in half. Draw a musical note or any other chosen motif: Christmas tree, snowflakes, stars...
Cut out small felt gloves and glue them both on the songbook and on the character's body.
To create the hat, cut a piece of felt and glue it around the roll at the hair level. Use a thread to tighten it in the middle and then cut small fringes from the remaining felt to give the illusion of a pompom. For a perfect finish, cut a strip of felt about 0.5 cm wide and glue it around the base of the hat.
Draw the eyes and mouth to complete the face of the little chorister.
Play your favorite Christmas songs to bring the choir to life!
FC xxxxxx - xxxxxx - et1
FC xxxxxx - xxxxxx - et2
FC xxxxxx - xxxxxx - et3
FC xxxxxx - xxxxxx - et4
FC xxxxxx - xxxxxx - et5
FC xxxxxx - xxxxxx - et6
Our selection for this creative sheet