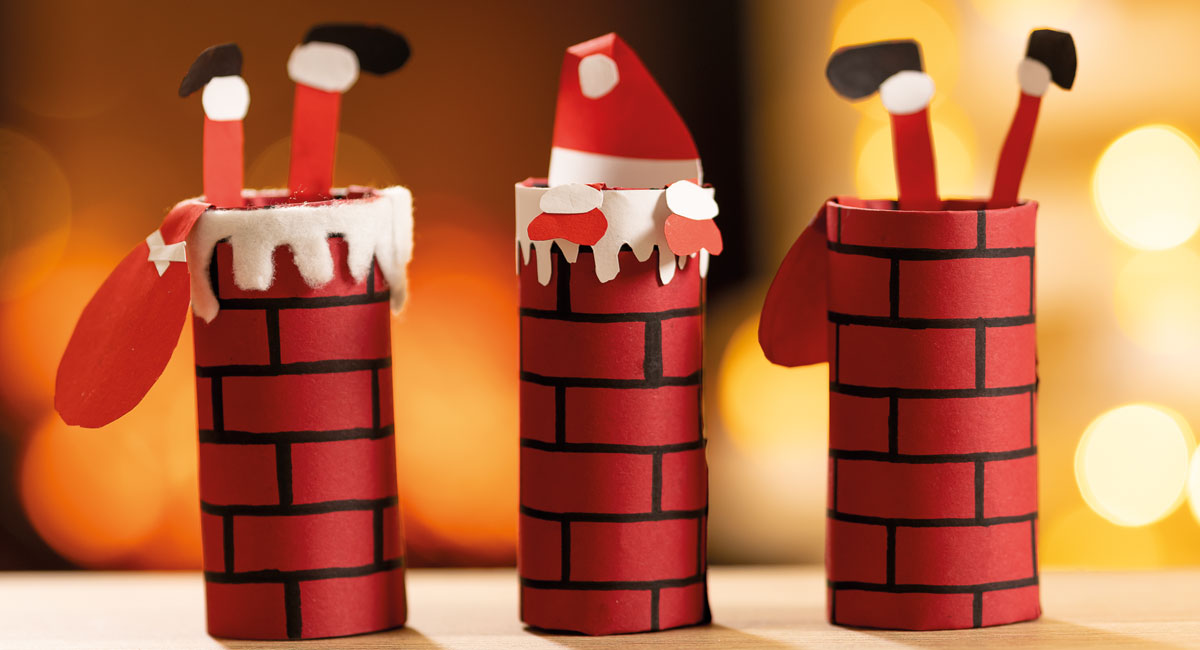 + 4 years old | Difficulty: ★ | 2 hours

Material
Upcycling: Toilet Paper Rolls



---
Chimney
Take a sheet of dark red paper and wrap it around the toilet paper roll to determine the size of the rectangle. Add 2 cm at the top and bottom, then cut.
On the red rectangle, draw horizontal black lines at 1.5 cm intervals, then make vertical lines to create bricks.
Glue the rectangle onto the toilet paper roll and fold the excess inside for a neat finish.
To customize the chimney, cut a white sheet of paper or self-adhesive felt into a white rectangle. Wrap it around the roll to determine the size and create incisions to create the snow effect. Glue the snow at the top of the chimney.
Santa Claus:
Cut out feet, hands, a bag, and a hat from a light red sheet of paper.
Color the feet with a black marker.
Cut the tops of the shoes, the upper part of the gloves, the string of the bag, the edge, and the pom-pom of the hat from white paper (in two pieces for both directions).
Glue all the white elements in their respective places.
Attach the feet, bag, hands, and hat inside the toilet paper roll.
And here's a playful decoration to place on the Christmas table!
FC xxxxxx - xxxxxx - et1
FC xxxxxx - xxxxxx - et2
FC xxxxxx - xxxxxx - et3
FC xxxxxx - xxxxxx - et4
FC xxxxxx - xxxxxx - et5
FC xxxxxx - xxxxxx - et6
Our selection for this creative sheet