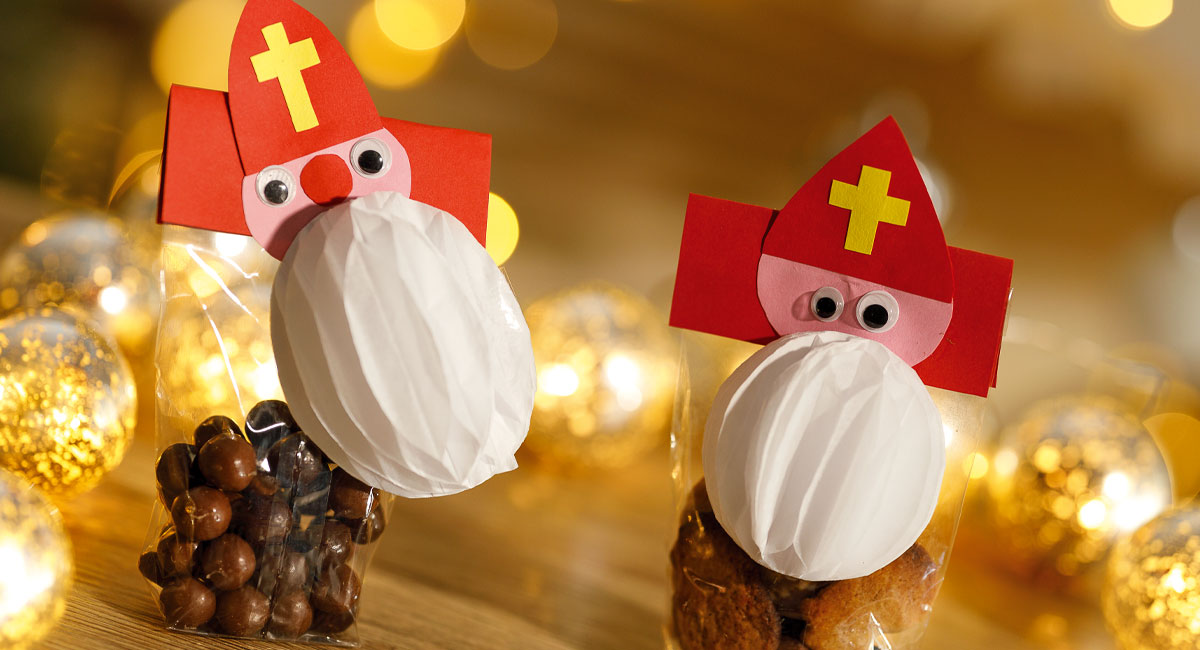 + 2 years | Difficulty: ★ | 15 minutes per bag

Material


---
Educational material
Saint Nicholas figurine
Print out the St Nicholas templates and cut them out.
Take a sheet of white honeycomb paper and trace the beards with the previously cut shapes. Cut out the traced shapes.
Expand the honeycomb paper and glue two ends together. This is a nice big beard!
Trace the other St. Nicholas shapes onto the sheets of cardstock. Match shapes and colours as follows: Head → Pink; Hat and Nose → Red; Cross → Yellow. Cut out.
Glue the cross on the hat, the hat, the nose and the beard on the head, leaving room for the eyes.
Add sticky eyes to make the character more lively.
Final assembly
Trace the support shape on red paper. Cut and pinch in half along the length of the rectangle.
Clamp on about 2 cm the top of a bag previously filled with biscuits. Place the previously cut red rectangle there; staple to close the bag. Glue the Saint-Nicolas on the rectangle to hide the clip.
All that's left is to share the magic of Christmas with mischief and greed!
FC xxxxxx - xxxxxx - et1
FC xxxxxx - xxxxxx - et2
FC xxxxxx - xxxxxx - et3
FC xxxxxx - xxxxxx - et4
FC xxxxxx - xxxxxx - et5
FC xxxxxx - xxxxxx - et6
Our selection for this creative sheet