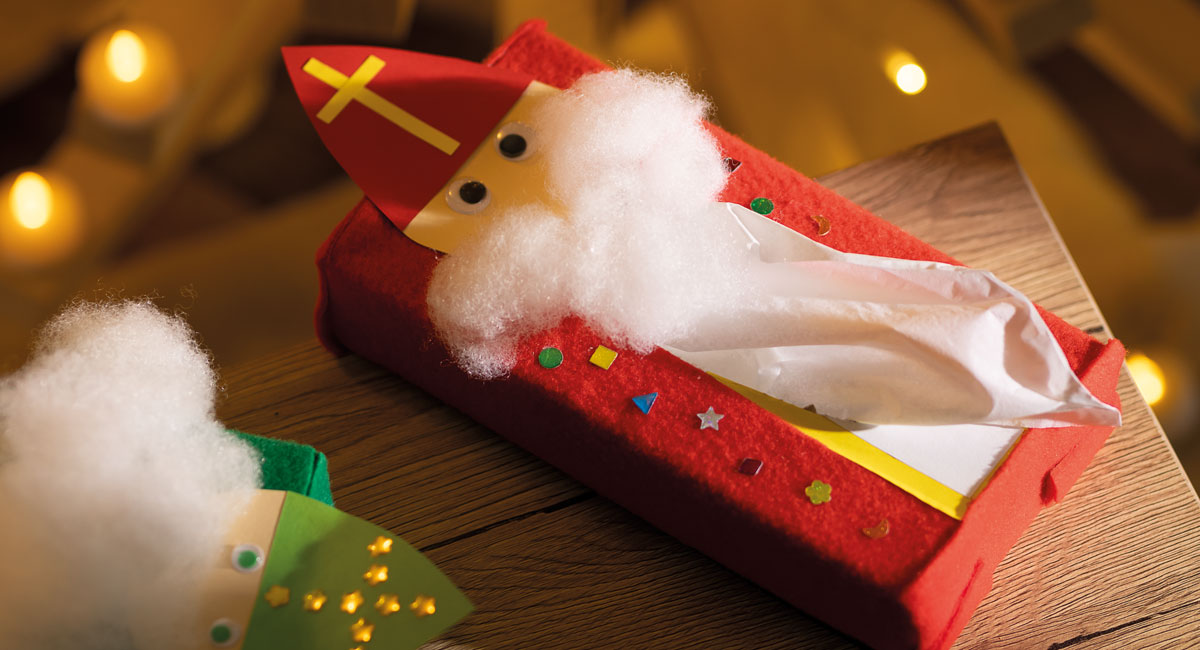 + 3 years old | Difficulty: ★ | 45 minutes

Material


---
Fine motor skills and creativity
Cut two rectangles of felt to the dimensions of the tissue box (choose traditional or original colors).
Glue the two rectangles, leaving access to the tissues. This forms Saint Nicholas's coat. Decorate with raised stickers as desired.
Glue a yellow paper onto the lower part and then attach a white rectangle in the middle. Saint Nicholas's coat lining cleverly covers the tissue box.
Using a glass or a compass, trace a circle on beige paper. This will be Saint Nicholas's head.
In another paper of your chosen color, trace a slightly rounded triangle. Attach two yellow strips to form a cross. This will be Saint Nicholas's mitre.
Glue the mitre onto Saint Nicholas's head, and attach the entire figure to the tissue box. Create a beard using stuffing fiber. Glue on googly eyes and draw the nose.
Tada! Here's a Saint Nicholas tissue dispenser to keep your hands clean while enjoying the treats!
FC xxxxxx - xxxxxx - et1
FC xxxxxx - xxxxxx - et2
FC xxxxxx - xxxxxx - et3
FC xxxxxx - xxxxxx - et4
FC xxxxxx - xxxxxx - et5
FC xxxxxx - xxxxxx - et6
Our selection for this creative sheet