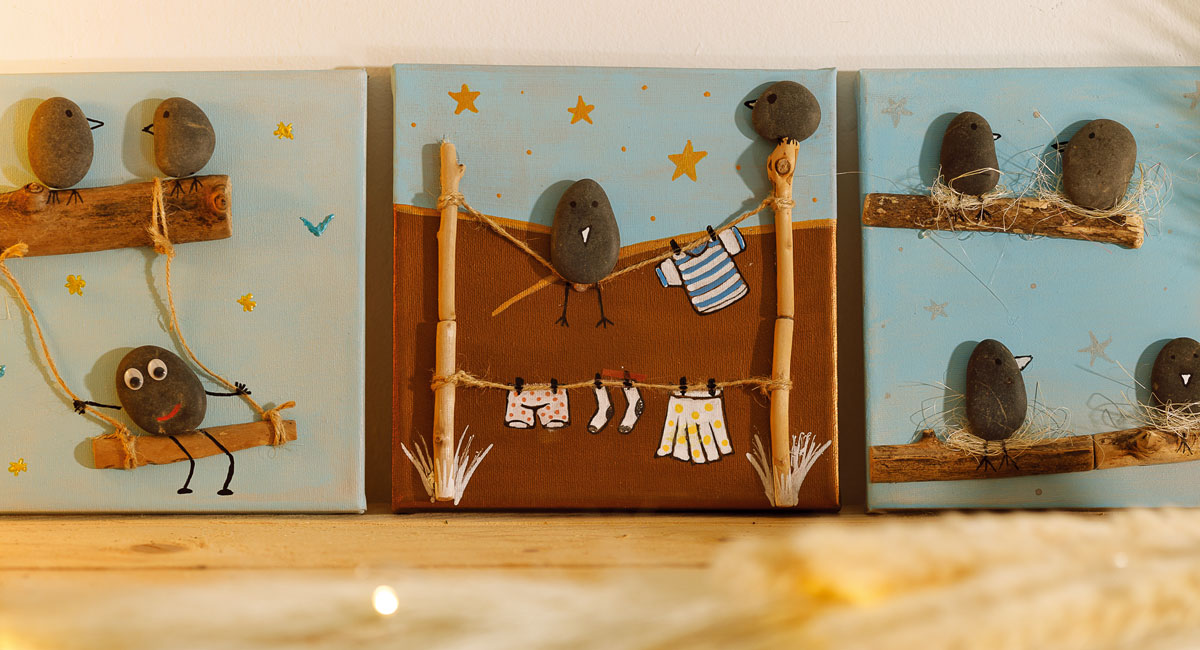 + 2 years | Difficulty: ★ | 1 hour + 30 minutes drying time

Material
Recovery: Pebbles and driftwood



---
Educational material
Paint all the canvases with the pastel blue.
On one of the canvases: with a gold pencil, draw lines to form a hilly landscape. Using a sponge, fill in the lower part with the bronze patina wax for an earthy effect.
Tie pieces of string to a piece of wood and connect it to another piece of wood to form a swing.
Repeat to form the clothesline.
Using silicone glue or a glue gun, glue the pieces of wood to the canvas and then the pebbles, placing the pebbles on top of the pieces of wood and on the clothesline (to be done by an adult).
With a Posca marker:

Draw the birds' beaks, legs and eyes on all the canvases.
Colour the birds' beaks with white marker.
On the swing, draw the arms and legs of a man.
Draw and colour clothes on the clothesline.
Finish with small pieces of raffia to form bird's nests, and draw gold and silver stars with a coloured pencil.
A triptych in the image of the end-of-year celebrations: joyful, family-oriented and nicely surprising!
FC xxxxxx - xxxxxx - et1
FC xxxxxx - xxxxxx - et2
FC xxxxxx - xxxxxx - et3
FC xxxxxx - xxxxxx - et4
FC xxxxxx - xxxxxx - et5
FC xxxxxx - xxxxxx - et6
Our selection for this creative sheet