Sheet - Recuperation Advent calendar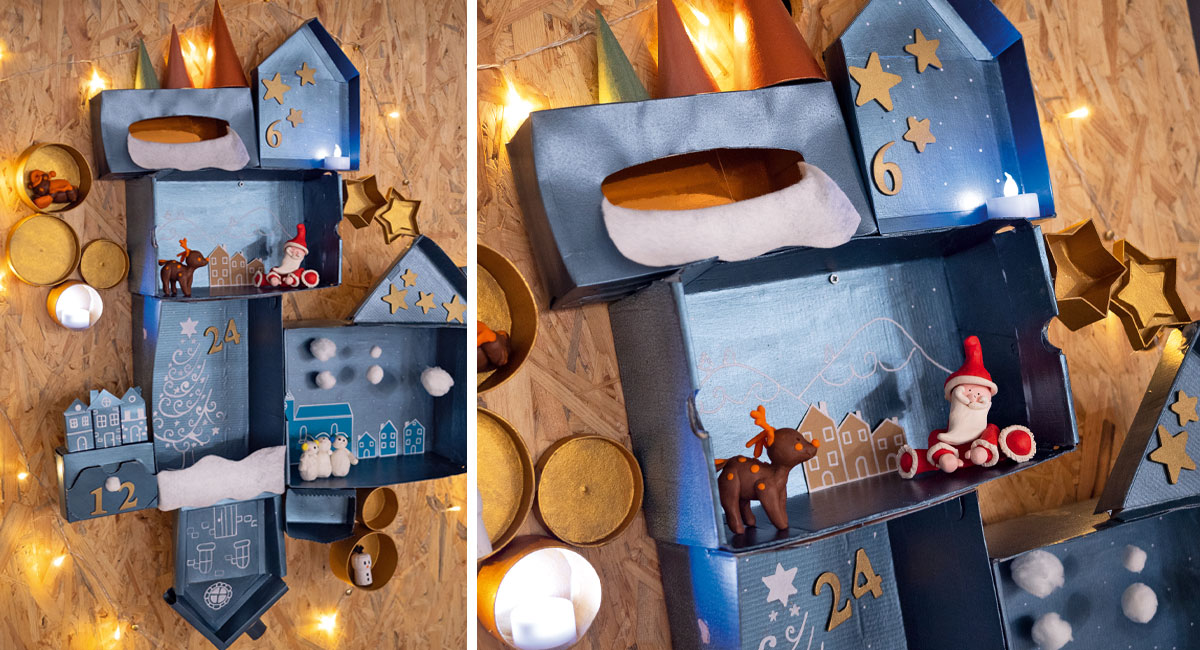 + 5 years | Difficulty: ★★★ | 3 hours
Material
Recovery: Cardboard boxes



---
Educational material
FC xxxx - xxxxxxx - TextPedago
Selection of supports
It's time to recycle!
Collect various cardboard boxes (shoe boxes, cheese boxes, tissue boxes, etc.) to create your calendar.
If necessary, add boxes to decorate in the shape of stars, circles and small trees.
Decoration for different surfaces

To paint recycled boxes, mix black and blue acrylic.
Paint the round boxes, stars and fir trees with bronze and gold acrylic.
Once dry, spray with the glitter spray to make them shine.
Then assemble the boxes using a glue gun and decorate them using a white marker, colored paper and position the numbers.
To create a winter world, make Christmas characters (Santa Claus, deer, bear, etc.) using fimo clay and then stick them in the boxes.
A creative, original and economical Advent calendar!
FC xxxxxx - xxxxxx - et1
FC xxxxxx - xxxxxx - et2
FC xxxxxx - xxxxxx - et3
FC xxxxxx - xxxxxx - et4
FC xxxxxx - xxxxxx - et5
FC xxxxxx - xxxxxx - et6
Our selection for this creative sheet