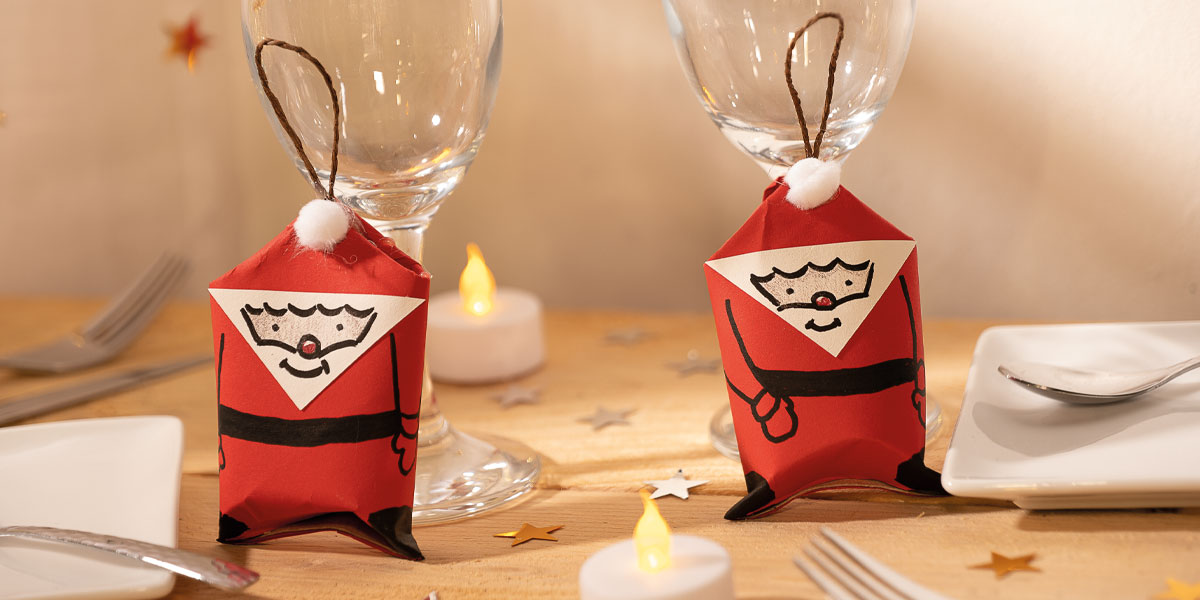 5 years | Difficulty: ★ | 30 minutes
Material
Re-used: Toilet paper roll



---
Educational material
FC xxxx - xxxxxxx - TextPedago
Cut out a red rectangle the same height as the paper roll and long enough to cover it.
stick the red rectangle around the roll
Fold the ends of the roll to close the top and the bottom as shown on the model
Join and fix together the 2 top corners and flatten slightly to get your snowman shape.
Curl the 2 lower corners outward to form feet.
Cut a white triangle the same width as the roll, then glue it to form a red triangle on the top of the man.
Using a Posca or black felt-tip pen, draw the details: arms, boots, belt, eyes, facial contours, nose and mouth of a Santa Claus.
Glue a white pompom on the top of the cap and hang a string by forming a loop stuck in the cap by a point of glue to hang your decoration.

A small decorative Santa Claus.
FC xxxxxx - xxxxxx - et1
FC xxxxxx - xxxxxx - et2
FC xxxxxx - xxxxxx - et3
FC xxxxxx - xxxxxx - et4
FC xxxxxx - xxxxxx - et5
FC xxxxxx - xxxxxx - et6
Our selection for this creative sheet