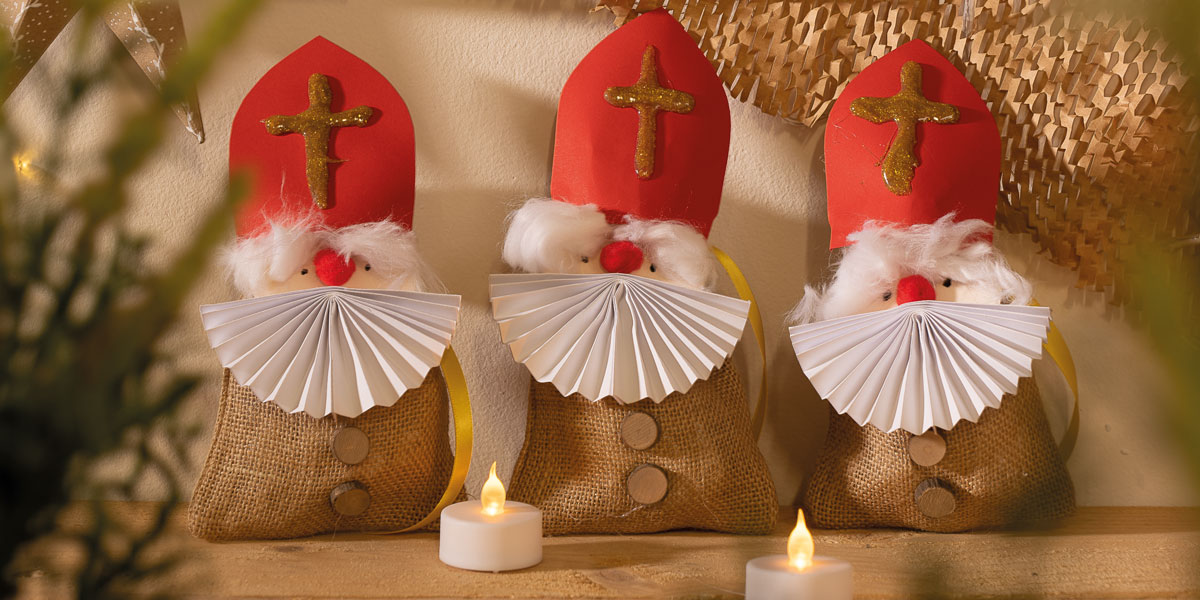 3 years | Difficulty: ★ | 45 minutes
Material



---
Educational material
FC xxxx - xxxxxxx - TextPedago
Cut a white sheet in 3 to make 9.9 x 11 cm strips. Fold them into an accordion and glue it on one side to form the beard.
Download, print and cut the hats out of the red paper.
For the hat: draw a cross with a glue gun with golden glue.
For the face: cut 3 circles with a diameter of 6 cm, glue a red pompom for the nose in the middle of each circle, frayed white pompoms for the hair, draw two black dots for the eyes and glue the beard under the red pompom.
Put the candies in the bags, close with yellow tape and let part of the tape hang over the side to make the cane.
To finalize the surprise bag: glue the head just below the yellow knot to open and close the bag without difficulty. Glue the hat on the hair and add 2 or 3 small rounds of wood under the beard to make the buttons of the coat of St Nicolas.

All that remains is to distribute the surprises.
FC xxxxxx - xxxxxx - et1
FC xxxxxx - xxxxxx - et2
FC xxxxxx - xxxxxx - et3
FC xxxxxx - xxxxxx - et4
FC xxxxxx - xxxxxx - et5
FC xxxxxx - xxxxxx - et6
Our selection for this creative sheet