Sheet - Felt Easter chicks

Age: 5 or over | Difficulty: ★ | Time needed: 20 minutes
Material
Aluminium wire
Decorative buttons
Pair of scissors
Glue
Felt
Ruler












---


Educational material
FC xxxx - xxxxxxx - TextPedago
FC xxxxxx - xxxxxx - et1
FC xxxxxx - xxxxxx - et2
FC xxxxxx - xxxxxx - et3
FC xxxxxx - xxxxxx - et4
FC xxxxxx - xxxxxx - et5
FC xxxxxx - xxxxxx - et6
FC xxxxxx - xxxxxx - et1
FC xxxxxx - xxxxxx - et2
FC xxxxxx - xxxxxx - et3
FC xxxxxx - xxxxxx - et4
FC xxxxxx - xxxxxx - et5
FC xxxxxx - xxxxxx - et6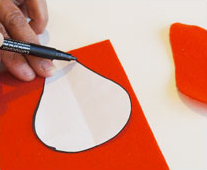 Place the larger template on the orange felt foam, trace the outline twice and cut out the shapes.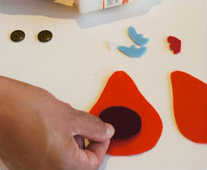 Do the same with the smaller templates and cut out the following: 1 black circle for the tummy, 2 small blue wings, 1 white beak, and 1 small red head tuft.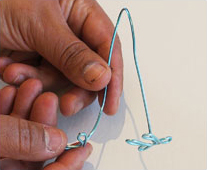 Cut a 25cm length of aluminium wire, fold it in two, then shape the ends into feet (see photo).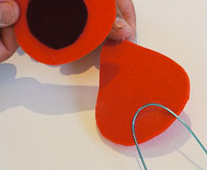 Remove the adhesive backing sheet from the orange felt foam and glue the 2 cut-outs together back-to-back, making sure the aluminium wire is placed between them.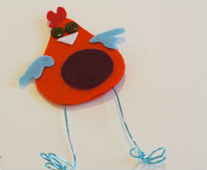 All that remains is to glue on the wings, the head tuft, and the beak. Then add decorative buttons for eyes to finish of this lovely Easter chick !
Our selection for this creative sheet