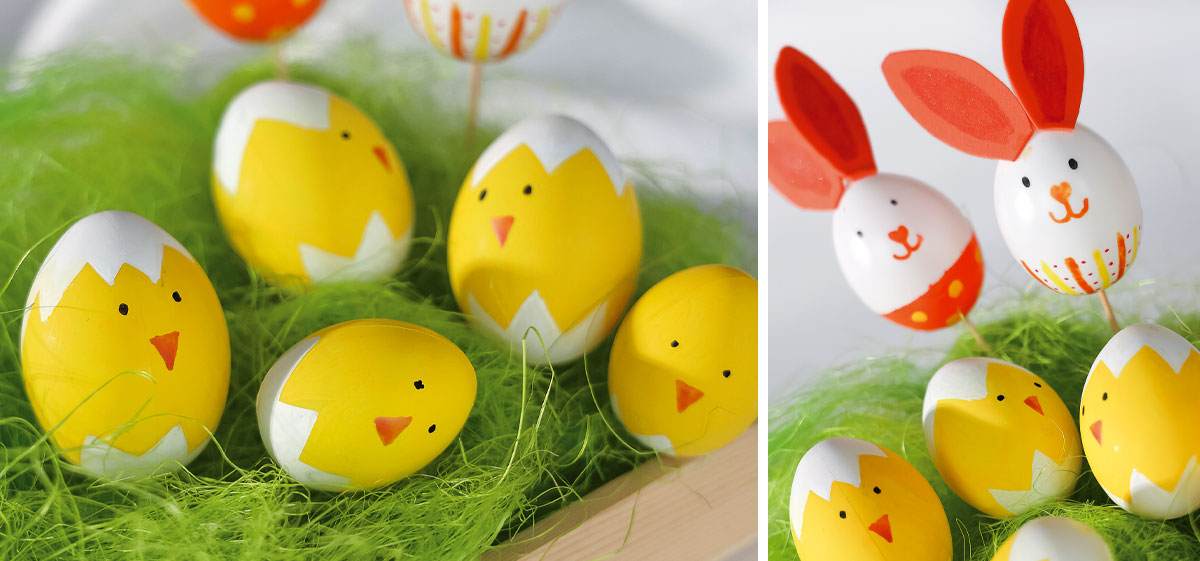 + 3 years | Difficulty: ★ | 1 hour
Material




---
Educational material
FC xxxx - xxxxxxx - TextPedago
For the chicks
Start by drawing triangles with the pencil on each end to mark the shell.
Then using Posca, paint the middle in yellow to give life to the chick, make a small triangle for the little beak and the eyes with small black dots.
For the rabbits
Start by drawing the bottom of the bunnies either plain or with patterns (circles, squares, lines...) on the bottom half of the egg.
Cut out the ears according to the downloadable template, and colour the inside with Posca.
To give height to the bunnies, make a small hole and prick on a wooden stick.
For the decor
Choose a wooden or cardboard tray large enough to create a springtime atmosphere with the bunnies and chicks.
Place the wool in the tray and then arrange the chicks, rabbits and chocolates to decorate the holiday tables.
A colourful spring garden!
FC xxxxxx - xxxxxx - et1
FC xxxxxx - xxxxxx - et2
FC xxxxxx - xxxxxx - et3
FC xxxxxx - xxxxxx - et4
FC xxxxxx - xxxxxx - et5
FC xxxxxx - xxxxxx - et6
Our selection for this creative sheet