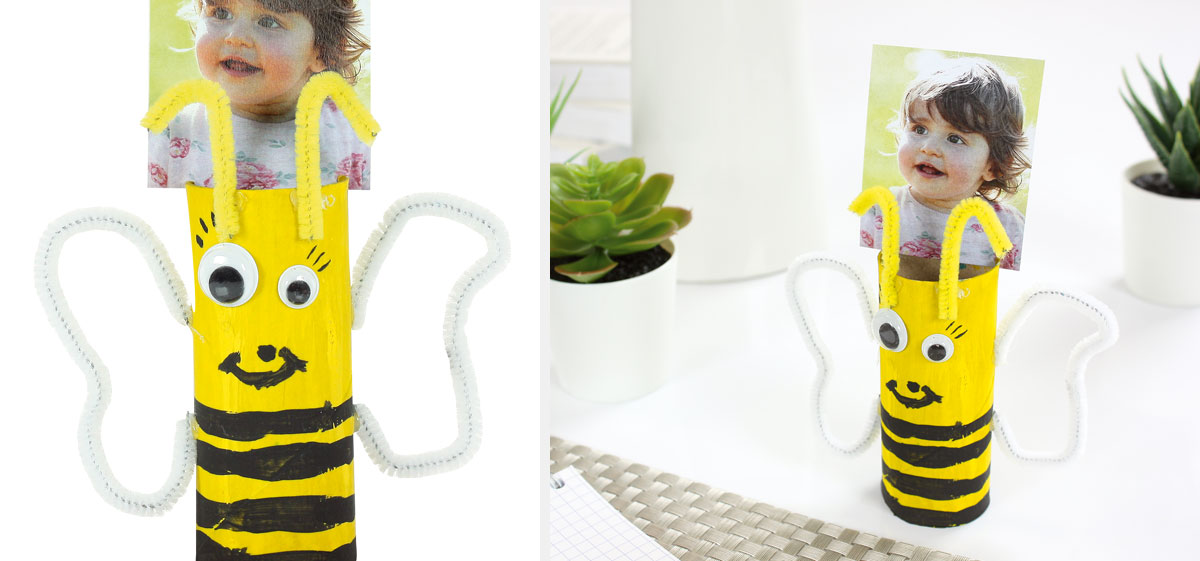 3 years + | Difficulty: ★ | 30 minutes + drying overnight
Material
A cardboard tube
A photo of the child


---


Educational material
FC xxxx - xxxxxxx - TextPedago
Paint the tube yellow.
When the tube is dry, paint the black stripes.
Stick on the eyes.
Paint the lashes, nose and mouth.
Glue on the pipe cleaners to make wings and antenna.
Use the cutter to make two slits (4 mm) at each side of the tube (step to be done by an adult).
Insert the photo of the child.
Your superb bee is ready for spring!
Peindre le rouleau en jaune.
Quand le rouleau est sec peindre les traits en noir.
Coller les yeux.
Peindre les cils, le nez et la bouche.
Coller les chenilles pour faire les ailes et les antennes.
Faire deux entailles à l'aide d'un cutter (4mm) de chaque côté du rouleau (étape à réaliser par un adulte).
Insérer la photo de l'enfant.
Votre superbe abeille est prête pour le printemps !
Our selection for this creative sheet