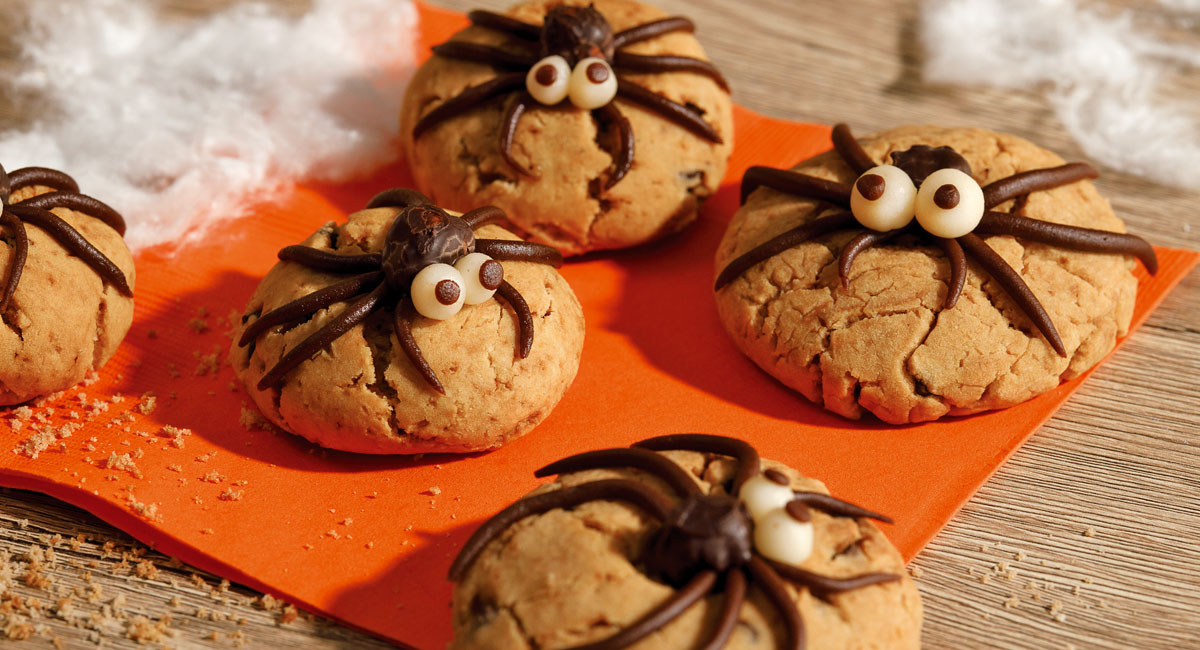 + 2 years | Difficulty: ★★ | Preparation: 30 minutes - Cooking: 15 minutes
Ingredients
210 g wheat flour

1 teaspoon baking powder

1 good pinch of salt

55 g coconut blossom sugar

1 egg

45 g hazelnut oil
45 g milk

60 g dark chocolate chips

whole hazelnuts

a little dark chocolate

a little white marzipan

a teaspoon of chocolate powder



---
Educational material
Mix the flour, baking powder, salt and coconut blossom sugar in a bowl.
Add the egg, hazelnut oil and milk. Mix until smooth, then add the chocolate chips. Mix again.
Preheat oven to 180°. Divide the dough into 7 pieces and shape the cookies. Press lightly in the centre with your thumb so that you can place the chocolate chip after baking.
Bake for 15 minutes. Allow to cool when done.
Melt the chocolate and dip the nuts in it. Place a hazelnut in the centre of each cookie and leave to set.
In the meantime, form 14 small balls with the marzipan to form the eyes of the spiders.
Mix the rest of the marzipan with the chocolate powder by hand, shape into very thin balls and cut in half to form the spiders' legs.
Make very small balls from the chocolate dough and place them in the centre of each eye.
These delicious spiders can be stored for 4 days in the open air!
FC xxxxxx - xxxxxx - et1
FC xxxxxx - xxxxxx - et2
FC xxxxxx - xxxxxx - et3
FC xxxxxx - xxxxxx - et4
FC xxxxxx - xxxxxx - et5
FC xxxxxx - xxxxxx - et6
Our selection for this creative sheet