KAZEO Changing units
The changing unit that adapts to all your spaces!
Whether you work in a creche, micro-crèche or other childcare facility, your daily actions require rigor and confidence in your equipment. adapted to your constraints: organization of your work, space available in your structure, hygiene, safety ...
We remind you that the child must never be left alone on the furnituree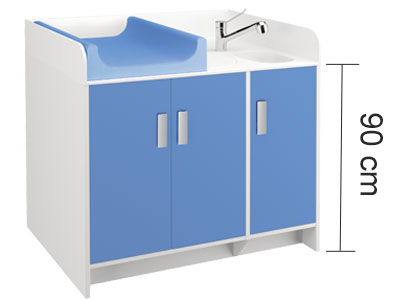 NEW HEIGHT



of the changing plan for better ergonomics and to avoid MSDs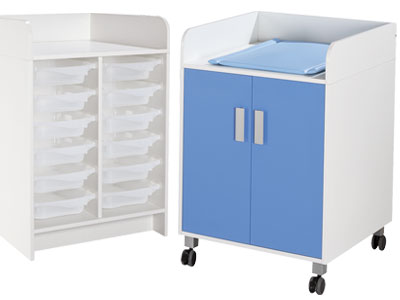 The "undressing plan" version
Allows you to seat the child at the arrival and departure of the crèche in optimal comfort and in complete safety.
The "on castors" version
Offers you a mobile solution that can be used in any part of your structure.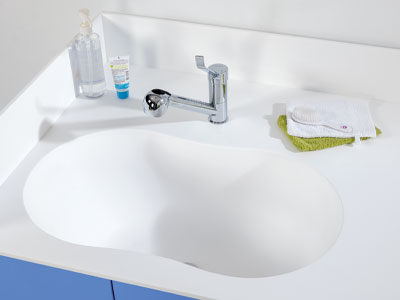 The all-in-one version


Optimal ergonomics

Bathtub integrated at the height of the table top.
Control of the shower elbow.
Preset maximum temperature stop.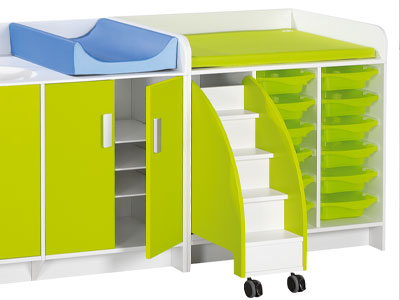 Little extra :

the step ladder



Mobile or integrated
to relieve the back :
no need to carry the child,
they will get up on their own on the changing table.

RANGEMENT OPTIMISÉ

Bacs en plastique biosourcé
sur rails antichute
ou

Étagères et portes
PRATIQUE

Nombreux accessoires :

escabeau mobile
poubelle coulissante
rangement mural
---

Optimal height of changing units :
Aids posture and movement, prevent musculoskeletal disorders.
Doors with restraint system on hinges for soft and silent closing.

Raised edges
Rounded corners
Complies with standard
NF EN 12 221

GUARANTEE 10 YEARS
19mm thick panels
Extremely shock resistant

Strong plastic edge

Easy to clean
Melamine on both sides
Invisible joints and completely integrated sink

Wood sourced from eco-managed forests
Formaldehyde levels below 4mg/100 g, wich is two times less than the required European standard.

---
You are planning soon
to open a micro-crèche?
Discover our selection of essentials.
Do you want a tailor-made layout?
Contact your regional sales advisor
---