A vast range of school equipment
Max quality, budget friendly
Because your school needs quality and fully adaptable equipment, Wesco Ireland offers more than 6000 products covering : classroom furniture, class accessories, learning materials, books, playground games, sport equipment…

Designed or selected by our in-house team and childcare professionals, our products are tailored to meet your requirements in your daily tasks.

Because quality is one of our founding principles, we have gone further and have even developed in-house checks and tests that are far stricter than the official standards.
This is why we hold ISO 9001 and 14001 certification in designing and distributing our products.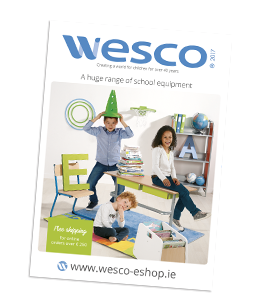 Leaf through
Our selection Classrooms and School Areas
Why choose Wesco ?
Specialist of early childhood service and nursery schools equipment, Wesco offers its know-how and its expertise to scholars establishments, with a full and adpated offer of 15000 references to discover for more than 15 years : classroom furniture, learning materials, school supplies and creative activities material, sports equipments, outdoor equipment, special selection for children with special needs or disability.